Choosing a Plumber Who Is Qualified for the Job
It's always a good idea to select your plumber before you actually need one, so that you can make an informed decision about your choice. Otherwise, you might find yourself choosing a plumber in a rush, which often doesn't lead to quality repairs and affordable prices. Don't wait until your toilet is clogged or your pipes are leaking. Instead, use these tips to assist you in figuring out which professional is the right person for your plumbing needs before anything happens.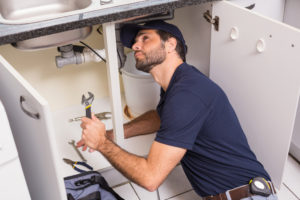 Get a Recommendation
The first place to start your search is to ask family, friends, neighbors, and coworkers who they use for their plumbing maintenance, repairs, and upgrades. You might discover that several people recommend the same plumber or plumbing company, giving you a good option.
Ask a Professional
If you have an established relationship with a building or contracting company, you should call and ask for the contact information for the plumber used by them. If you purchased your home recently, you can contact your real estate agent and ask for a recommendation.
Request the License Number
In order to determine whether or not the plumber has the proper credentials and training, ask for the individual's license number. If he cannot provide one, it's best to continue your task of choosing a plumber by looking for a professional who does have a license. In the event that you need to file a claim with your insurer, you will be required to provide the plumber's license. Choosing a plumber with a license gives you a convenient way to locate him if you need to request additional service based upon the terms of the warranty.
Ask if the Plumber/Plumbing Company Is Insured
Typically, licensed plumbers are insured. You should verify that the plumber does have insurance, just in case you need to put in a claim.
Ask About Service Warranties
If the plumber provides a customer-service guarantee, it's a clear sign that he does quality work. If he doesn't offer a service warranty, then it's more than likely he won't return to remedy a problem that he created. A plumber who is confidant in his own skills is going to provide a guarantee for his services, giving you an excellent reason to consider him for the task of keeping your plumbing in good condition.
Consider Pricing
As with many service industries, you'll discover a wide variety in pricing. Some plumbers charge a flat fee that includes everything from parts to labor, while others charge an hourly rate or service-call fee on top of the cost of materials and parts. While it is normal for some jobs to require an open-ended quote due to the unknowns existing with the job, this shouldn't be the case for each type of plumbing repair. If you want to find a plumber with affordable prices, you need to ask a lot of questions, including whether or not there are any additional fees.
Choosing an Established Plumber
Due to the intricate nature of plumbing, finding an experienced professional who has been in the trade for a number of years gives you access to skilled work. Look for a plumber who operates out of a business office rather than out of his home. You don't want someone who simply does plumbing as a side business, but rather, you should look for a professional who is committed to providing quality plumbing service.